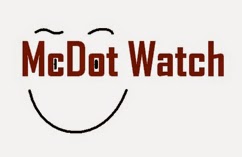 Montgomery County Department of Transportation (MCDOT)
Release ID:
Release Date:
Contact:
From:
15-070
4/7/2015
Esther Bowring, Community Relations Manager 240.777.6513
Office of the Director

---


Statement of Montgomery County Department of Transportation Acting Director Al Roshdieh Concerning the M-83 (MidCounty Corridor) Study

Last month, the Montgomery County Council T&E (Transportation, Infrastructure, Energy and Environment) Committee directed the Department of Transportation (MCDOT) to forward its report recommending a preferred alignment for M-83 to the Army Corps of Engineers and the Maryland Department of the Environment for review. The report, which was completed last year, assesses nine alternative alignments for north/south travel in the Clarksburg area, including the preferred option currently in the transportation master plan. Because the permitting agencies are reviewing the report's recommendations, questions have arisen about MCDOT's position on this road, so I would like clarify the position of the County Executive and my own position.

The County Executive does not support building this road, he did not recommend the preferred alternative, nor was it an option that I as MCDOT acting director recommended. Further, there is no funding proposed for the project in the County's capital budget.

The study, "Draft Preferred Alternative/Conceptual Mitigation Report" (PA/CM) was conducted before the Route 355 Bus Rapid Transit (BRT) system was in the master plan, and therefore it was not considered as one of the alternatives. If BRT is considered, I believe the results of the PA/CM study and its recommended alternative could be significantly different. I strongly endorse this reassessment.

During my three months as MCDOT Acting Director, I continue to look for ways to promote a broader view of mobility in Montgomery County that is not necessarily wedded to building more roads. Taking a fresh look at various M-83options, including the Route 355 BRT, is an important step in my vision for this department.