"The comprehensive rapid transit system will provide improved mobility for its riders, will improve the county's quality of life, will stimulate economic development in the County, and will improve air quality, reduce greenhouse gases, and reduce energy consumption." — The Montgomery County Transit Task Force
http://www6.montgomerycountymd.gov/apps/cex/transit/index.asp
TAME Coalition stands behind these aims of the Montgomery County Transit Task Force. Developing our county's mass transit system will do more to ensure sustainable quality of life for our ecosystem, and its inhabitants, than building another road designed for car travel will ever do.

The Bus Rapid Transit Amendment to the Montgomery Co. Master Plan of Highways includes the following goals:
Provide a transit system in appropriate areas of the County that is a viable alternative to single-occupant travel.

Make BRT a preferred mode of choice by creating a network that increases reliability, minimizes delay, and compares favorably to driving times during peak periods.
BRT is similar to light rail operations, but runs buses on county roads. Upcounty will be served by BRT running on Rt 355. This route will be a key component in the development of mass transit corridors that will reduce car traffic from Clarksburg, south. Its rapid creation and implementation would render the building of M-83 unnecessary, protecting our forests, wetlands and neighborhoods from destruction and dissection.

Proposed BRT Route Map
http://montgomeryplanning.org/transportation/highways/brt.shtm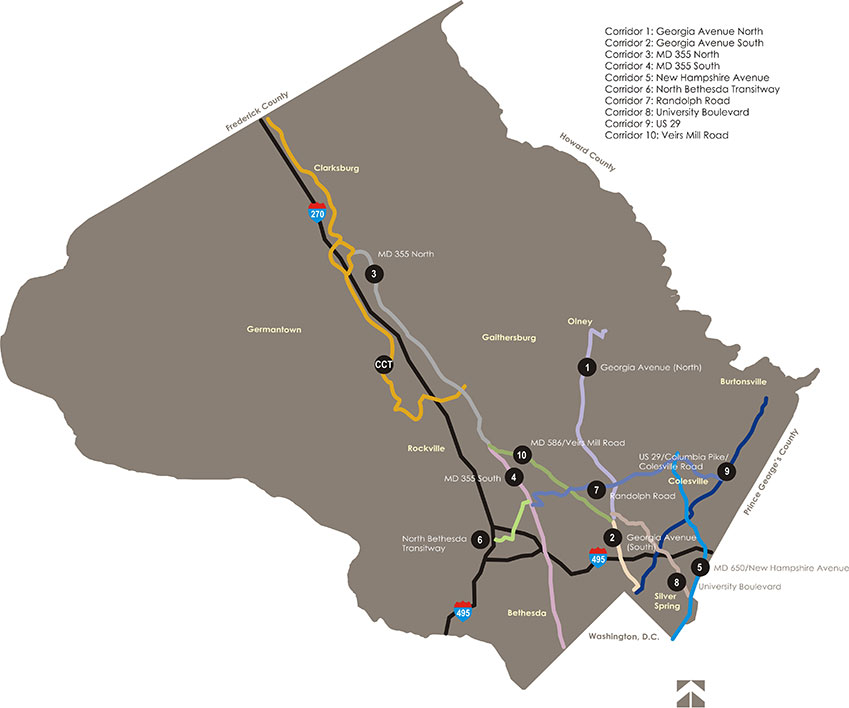 The Countywide Transit Corridors Functional Master Plan will recommend rights-of-way for individual transit corridors to accommodate bus lanes and station locations for the proposed transit network.
Join Us
by adding your voice to our community effort to eliminate M-83 from the Master Plan of Highways! Support implementing Bus Rapid Transit as one of multiple transportation systems to replace M-83.